About 66 million years ago, just after the great extinction of the dinosaurs, the dominant climate in the Iberian Peninsula was of the subtropical type.

At that time, commonly called Tertiary, the vegetation was very different from the current one.

Here dominated plants of evergreen leaves, broad and glossy (of the Laurissilva type), adapted to an always hot and humid climate.
However, a few million years ago, the climate of Iberian Peninsula began to gradually cool down and to have a drier season – the summer (characteristics of the Mediterranean climate).

Without adaptations that would allow them to survive this new climate, the subtropical plants were disappearing and progressively replaced by others from Mediterranean type, similar to the one we all know today.

However, refugees in very special places in the Southwest of the Iberian Peninsula, some of those ancient plants still bear witness to the weather of the past (the so-called relics of the Tertiary).
The Rhododendron of Monchique
History
Rhododendron ponticum subp. baeticum

t is a plant of ancient origin and one of the best examples of relic species that remain in the Iberian Peninsula.
Rhododendron ponticum

it is a plant that evolved during the Tertiary period and that once had a wide and continuous distribution in the south of the European continent.

However, with the climatic cooling and the progressive installation of the Mediterranean climate, it disappeared, remaining only in some refuges of the Iberian Peninsula, Black Sea Coast and Lebanon.
Isolated from other refuges, plants in the Iberian Peninsula have evolved and differentiated themselves from plants in Eastern Europe.

This isolation gave rise to the subspecies baeticum, a plant that we now know as Rhododendron, and which is a rare and endemic plant in the Iberian Southwest.
Rhododendron is a very rare plant, which only exists in some Portuguese and Spanish mountains.

In Portugal, it has only two disjunct populations, one in the Monchique area and the other in Caramulo.

In Spain, it has its last refuge in the mountains of Aljibe (in the south of Spain – Andalusia).
Biology
It is

a plant

of the same family

of the heather

(

Ericaceae

family).

It is a perennial and evergreen shrub, which can reach 3 m in height.

The flowers are very showy and large, between bright pink and lilac, with orange streaks, meeting in inflorescences composed of 7 to 21 flowers.

Flowering occurs between May and July (occasionally also in autumn).

The fruits are narrow and oblong woody capsules with 2 to 3 cm, which open during autumn-winter.
Each individual produces countless small seeds (<1mm) annually, easily dispersed by the wind.

Despite this, natural regeneration is currently scarce and juveniles are practically absent in Rhododendrons.

This is due to the lack of adequate climatic conditions for the installation of new seedlings.

Thus, nowaday, the expansion of populations is ensured almost exclusively by vegetative reproduction.
(Click on images to enlarge)
Ecologia
Os adelfeirais encontram-se em áreas montanhosas, em climas relativamente quentes e húmidos, com elevada influência oceânica, onde as geadas são inexistentes. Globalmente, ocorrem de forma espontânea em duas posições ecológicas distintas: nas margens de cursos de água (posição ripícola); e em orlas ou em subcoberto de bosques de Quercus canarienses. Em ambos os casos, localizam-se sempre em solos ácidos e húmidos.
Os adelfeirais prestam serviços ambientais de elevada relevância para o bem-estar humano, nomeadamente: ajudam na proteção do solo, minimizando a erosão; contribuem para a formação de solo; são refúgio para outras espécies de flora e fauna; constituem uma enorme fonte de informação estética, artística, cultural, espiritual e histórica; e são importantes recursos genéticos.  Adicionalmente, são um habitat de extrema importância para a educação e ciência.
(Clique na imagem para ampliar)
(Clique na imagem para ampliar)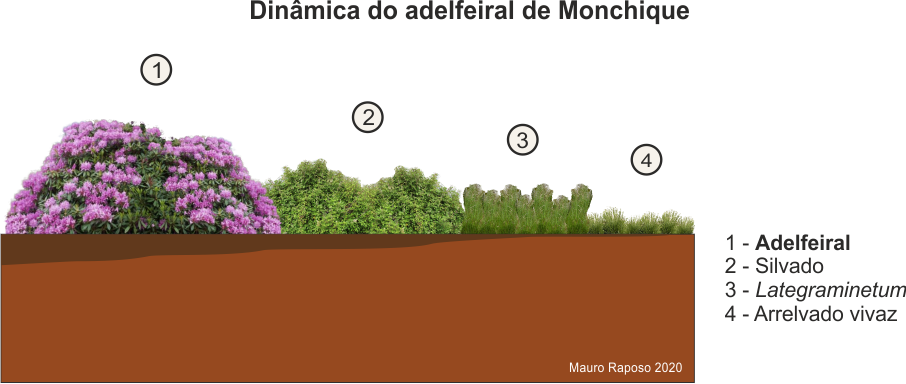 Curiosidade
Rhododendron ponticum foi introduzido nas Ilhas Britânicas no século XVIII, onde se tornou uma espécie exótica invasora. Estudos genéticos revelaram que o ancestral das Ilhas Britânicas é oriundo da Península Ibérica. Contudo, trabalhos recentes referem que os requisitos ambientais das plantas nativas ibéricas e das plantas de carácter invasor nas ilhas britânicas são muito diferentes. Esta situação sugere que, a dada altura, os ancestrais ibéricos poderão ter hibridado com outro parente próximo (outra espécie de Rhododendron), resultando numa planta altamente competitiva, capaz de invadir novos nichos.