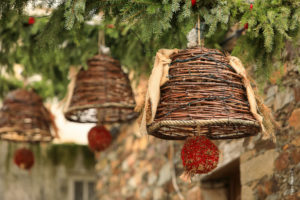 On December 14th, the Life-Relict Project team organized an interpretative visit to the woodland of Portuguese Laurel in Cabeça, Seia county. The activity consisted of a pedestrian walk with about 3km in the surrounding of the Cabeça village and was part of the event program called Cabeça, Christmas village. For the 30 or so participants, it was possible to stroll along the Loriga stream as well as observe various species of plants that surround this wonderful village, such as a chestnut tree (Photos 1, 2, 3 and 4).

During the visit several strategic stops were made in order to present to the participants the objectives of Life-Relict project, the various concrete conservation actions that are taking place in this particular territory and, of course, the Portuguese Laurel (Prunus lusitanica subsp. lusitanica) which is a rare tree native to the Iberian Peninsula, the French Pyrenees and North Africa, considered endangered by the IUCN and the target-species of this Life project (photos 5 and 6).
The communities of Portuguese Laurel are favored by the presence of some water and, consequently, for their preservation it is necessary to reestablish the flow rates of "levadas", water conduction channels, formerly used in traditional irrigation. This levada (photo 7 and 8), was in poor condition due to the abandonment of agricultural activity and was recovered by the Life-Relict team being one of the concrete conservation actions for the preservation of the Portuguese Laurel. Another strategic stop was to explain to participants how the Life-Relict team controlled heliophilic bushes in this area, thus reducing the fuel load and therefore reduce the risk of fire. (photo 9).
Participants could enjoy beautiful, unique and genuine landscapes like these in the images (photos 10, 11, and 12). There was also opportunity to overcome challenges and experience adventures. Finally, there were still opportunities to take some group photos before finishing the visit to the Portuguese Laurel Woodland, and the participants got together in a magusto in the community oven of the village of Cabeça (photos 13, 14 and 15).

On December 27, the pedestrian walk was repeated, this time along the Socalcos Route and organized by Estrela Mountain Interpretation Center (CISE in portuguese), a Life-Relict partner.
Click on images to enlarge